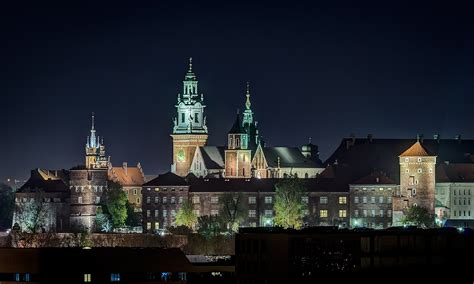 June 15, 2018
We climbed Wawel Hill today, as people have been doing for the last 50,000 years. Only since circa 1000, however, has this climb served to gain the entrance to the castle. Now it's a museum (1931), sitting in a complex of structures including the Royal Cathedral, atop the modest hill overlooking the Vistula River.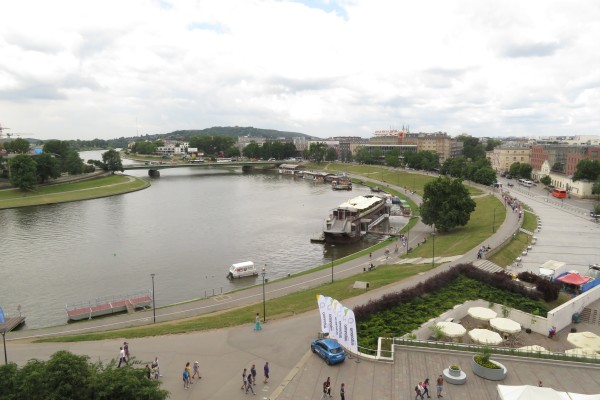 In the 9th century the castle was in its first iteration, a forticiation (castrum) built by the Vislanes. The remains of the castrum are in the northern wing of the present-day Castle. Subsequently the Piast dynasty (965-1034) chose Wawel Hill as a residence. Early in the 11th c. King Bolesław I built the castle that is the forebear of today's structures.
Kazimierz III Wielki (Casimir III the Great, 1330-70) transformed it into a fortified Gothic castle. After its destruction from fire 1499 Zygmunt I Stary (Sigismund I the Old; 1506–48) ordered a new building in the Renaissance style, with an impressive large courtyard with arcaded galleries, completed 30 years later, thus creating the basis for what we have today.
Poland lost its independence in 1795, the castle coming under Austrian control. The Austrians converted some portions of the site to military hospital use, and some destroyed buildings. Eventually the castle because a residence of Emperor Franz Josef I, and occupied by the Austrians until 1911.
The Nazi governor resided in the castle, but not before securing some of the treasures and in some cases moved to Canada.
Today there are ten collections, including important Italian Renaissance paintings, prints, sculptures and textiles, including the Sigismund II Augustus tapestry collection, gold, Oriental art including Ottoman tents, armor, ceramics, Meissen porcelain, as well as period furniture. There are specialized conservation studios, making it a significant restoration center.