June 2
Passing through the remaining seven bridges of Edam is a bit of a challenge due to the narrowness of the canal and the ever present wind. At times our boat barely fit between the small bridges. The harbormaster of the day biked from bridge to bridge to open them as we arrived, which helped. Some of the bridges required him to pull down on a rope. The last one or two are machine operated, just requiring the push of a button.
Countryside followed the last bridge, with few boats and just one large barge that came around a curve on our side just past the ferry that was loading passengers. The barge glided past while the ferry waited as both Viking and the barge passed by. Along the way we saw several houses whose front doors were well below.
At Spijkerboor there is an intersection. We took the canal that takes you through or in the canal alongside Lake Alkmaardermeer. There's an attractive marina with a restaurant in the canal. Dozens of boats were camped, passengers enjoying the sun.
We moored a few hours later in Alkmeer, our second visit by boat to this town. This time we moored for a day in the canal, made choppy with passing boats and frolicking teens spinning their small crafts to make the biggest waves they could manage. We were fortunate to get a spot as there is a medieval festival this weekend, attracting many locals and tourists from afar. The restaurants and bars were packed and the streets narrowed with by the people sitting at the sidewalk tables. Traditional sailing barges and other boats lined the downtown harbor, where we stayed last time.

The next day the crowds thickened. Dressed in medieval garb, with makeup mimicking injuries, burns and various diseases as well, men, women and teens marched through town. Many were in character, displaying mental disorders, and there were a few hunchbacks too. Along came the well to do in fine frocks and Sunday best. Vendors sold traditional foods along the route. I was taken by the apple-cherry pie, which did not last more than a few steps.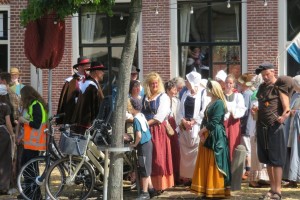 The harbormaster moved us off the main canal the next day. We stayed two nights right in front of a restaurant, along with a few other boats. The aromas and chatter lasted well into the night. Aboard it was sausage and sauerkraut for dinner, for lunch a lekkerbek, a deep fried super bland white fish, with a bit of salad and the ever present fries. A friendly Dutch woman explained the 'beck' is a word for mouth. I already knew what 'leeker' meant. So leekerbeck is 'like mouth' as in 'tasty fish.' I disagree.