Chiesa Sant'Agnese is a small domed church designed by Boromini, a contemporary of Bernini and a rival who never made it to his competitor's stature. In my book he had nothing to be ashamed of, he just had a competitor that was outstanding and well connected. The work he was assigned was smaller in scale but he did a magnificent job of making the interiors zoom in space.
Chiesa Sant'Agnese is often termed "St. Agnes in Agony' but this gives an incorrect translation of 'Agone." Agone means 'games' and also refers to the stadium built by Diocletian starting in 80 AD, with a circle track. So perhaps we should say "St Agnes at the Track," as irreverent as that may seem.
The church sits on what we now call Piazza Navona, originally called "Circus Agonalis" (circus is a circle, just like Circo Massimo, Circus Maximus). Apparently the name Agonoalis morphed into Navona. Aside from the track shape of the plaza and the buildings facing it, the main feature of the plaza is Bernini's Fontana dei Quattro Fiumi (Fountain of the Four Rivers).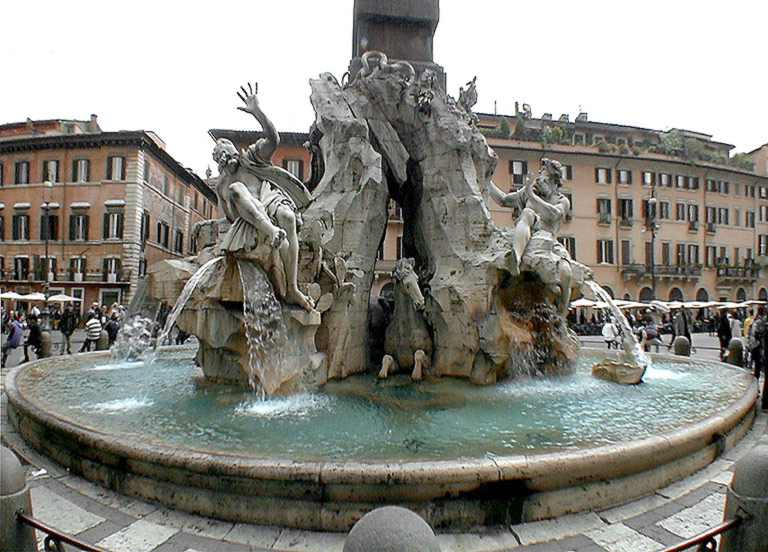 It was designed in 1651 by Bernini for Innocent X of the Pamphili family. The family palace faced onto the piazza as did the church, sponsored by Innocent as well. When Innocent put out the bid for the fountain, Bernini was not allowed to enter, having fallen out of favor when the towers he added to St Peter's Basilica caused the church walls to lean. However Bernini made a model of the fountain for a mutual friend, who entertained often and whose guests included Innocent X. He saw the model, asked who made and when told said, "The only to avoid hiring Bernini is to avoid seeing his work."
From the Wikipedia: "The base of the fountain is a basin from the centre of which travertine rocks rise to support four river gods and above them, an ancient Egyptian obelisk surmounted with the Pamphili family emblem of a dove with an olive twig. Collectively, they represent four major rivers of the four continents through which papal authority had spread: the Nile representing Africa, the Danube representing Europe, the Ganges representing Asia, and the Río de la Plata representing the Americas." the wiki
I sat to the right of the horse and made several quick drawings/sketches.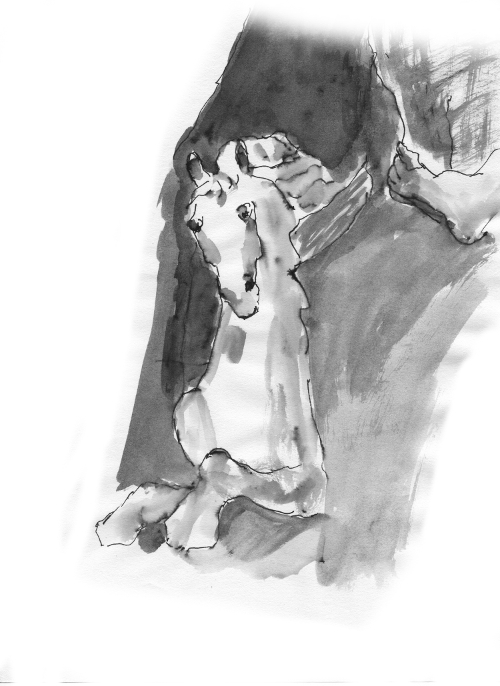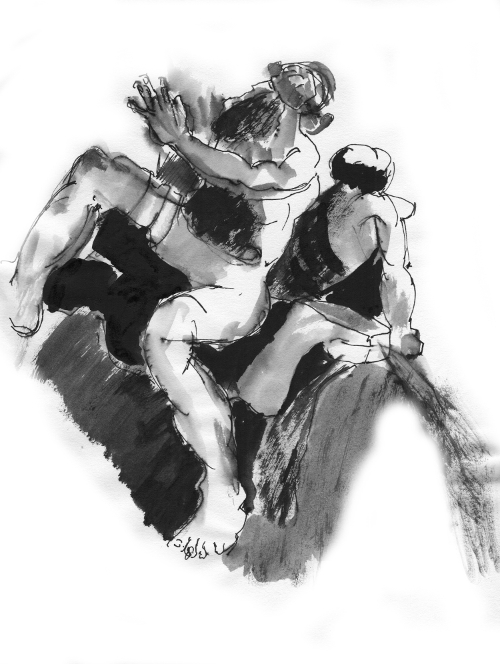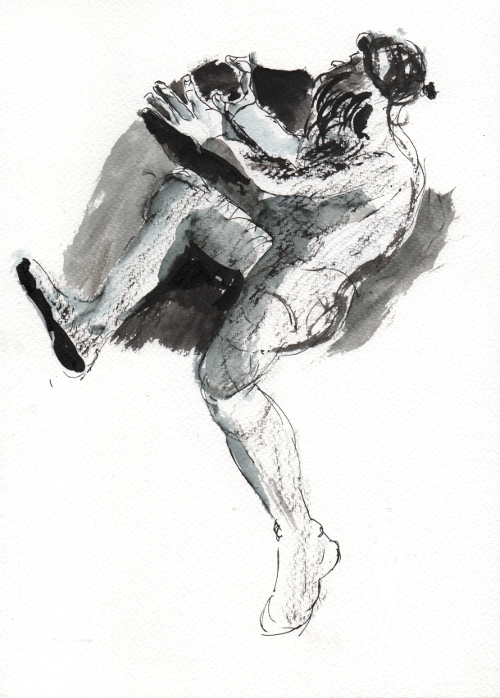 This is a drawing of one of the statues in the church: