A Baroque masterpiece and World Heritage Site, Schloss Eggenberg in Graz, Austria is a treasure of the Baroque and, to a lesser extent, the Rococo period of the Baroque epoch, which is the last development in the as well as the most complex and intricate of the period.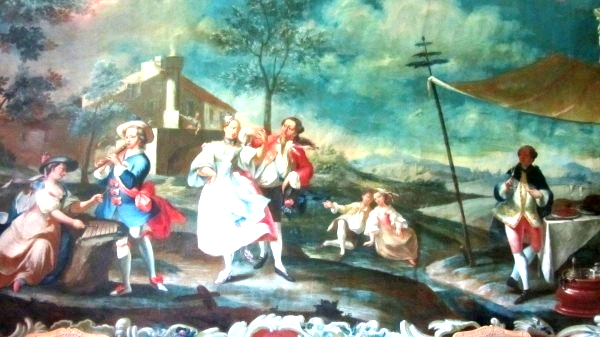 Here is a video slide show of our photos during the visit, which is only available as a guided tour, set to Mozarts' Klarinettenkonzert (K. 622).  The tour is in English as well as German.
Photos by Peg Kirkpatrick.
In addition to the living quarters, the castle has the Planetary Garden, a Lapidarium of Roman stonework and the new Archaeological Museum, which houses the Cult Wagon of Strettweg. There is also the coin collection in the of Balthasar Eggenberger, who ran the mint, and the Alte Galerie, which holds artworks spanning five centuries of European art history.
In 1625 Prince Hancs Ulrich Eggenberg commissioned court architect Giovanni Pietro de Pomis from Italy to build his palace.   He left the medieval tower in place, and it is there to this day.  The palace was finished circa 1646.  After the male line died out, the building and the garden was decorated in the Rococo style fashionable at the time (1754-62).  They added Asian (Chinese and Japanese) rooms.  Most of the porcelain was recovered after a sell off in the 19th century so there for us to see.
The building was occupied by the Soviets at the end of the war.  Several beds disappeared, and only one remains but it is in the original condition.  It is in a public room, as was common at the time.
The apartments are in marvelous condition.  The silk wall coverings and other elements have been restored.  The wooden floors are largely original and in period styles.  There are many wall and ceiling paintings of magnificent dimensions, depicting scenes including ordinary people as well as the nobility dressed to the hilt.  he artist Hans Adam Weissenkircher executed the 600 paintings in a period of just 7 years!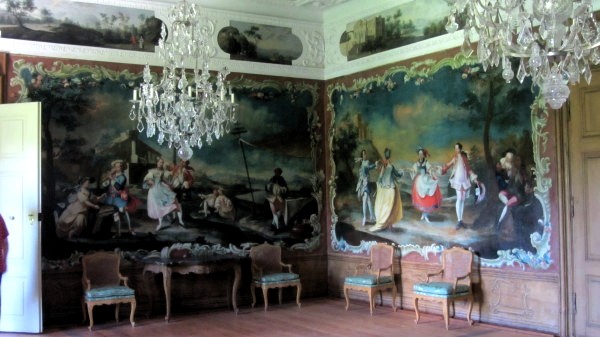 The castle is themed around the Gregorian calendar.  There are has 365 exterior windows. 52 of them are on the 24 rooms representing the weeks of the year. The second story, which is where the apartments are, consists of 24 state rooms. Each floor has 31 rooms, the maximum number of days in a month. The 52 windows of the piano nobile (the floor with the apartments) has 60 windows including the Planetary Room, the number of seconds in a minute and the minutes in an hour.  There are 4 corner towers, referring to the four seasons.
The Schloss is a 30 minute bus ride from town.  You have to change buses but the connection is easy.  Certainly worth the effort!