Rome Struggles, Rome Beckons
We landed in Rome's Ciampino airport. We are barely on the ground and already Rome's disarray hit us.
The last time we landed here there was only one bus to Termini, Rome's central transit point. We presumed that was still the case when we bought our tickets from the vendor in Valencia's airport, thinking what a good idea it was to sell tickets ahead of time. But then we walked out the front door, saw the bus platforms and four bus lines" names, but the name printed on our ticket was not there. I asked several staff and passengers to find which line was ours. We stood in that line for 15 minutes (at least we were shielded from the hot sun). The confusion was not over, however. as we were told to get in another line, whose placard was for another company. Indeed our bus appeared but as we waited we wondered if we had been mislead. Then there was getting on the bus. Italians do not stand in line, they crowd around the door, outflanking you. Eesh- I was already exhausted. And the struggle goes on and on. Why? Because Rome is chaotic like a turbulent fluid.
Traffic moves like a raging river one moment and a logjam in the next, herking and jerking until the wee hours. Yet like the fluid that finds its level, people get to where they are going, eventually, competing with each other and the buses and trams. The latter are what the drivers avoid using, but once in their cars they spend lots of time trying not to hit them and the other cars and the jillion darting scooters. Everything would work better if most everyone used mass transit, or the recently added bike lanes which they might do if there were enough buses, subways and bike lanes, but there aren't since people spend money on cars instead.
The enormous trash bins are another sign of chaos. They are emptied daily yet each day overflow in an unsightly mess. Rome city government is getting advice on how to solve their trash mess from Palermo, of all places- that's how bad it is. Even the upscale neighborhoods of the city have these problems, such as on Viale Giulio Cesare, which runs past the windows of our summer abode. Down a bit from our place tourists by the millions line up for St. Peter's and the Vatican Museum. The back streets are lined with upscale stores, wine bars, restaurants and made to measure shops. But trash mars the area. The platforms upon which the containers nicely sit hold four dumpsters, one for household trash and three for recycling. They need perhaps two more but there's no room on the platform and cars take up the room otherwise available.
Rome's other issues contribute to the strain. Refugees, street people, tax avoidance, pollution, street trash. The list is seemingly without end- this is not an easy place to run, so no wonder there's so much dysfunction. And yet people come, because Rome eternally beckons. Where else would you find an Eternal City, a city of such high art? There are countless richly decorated and appointed churches, public buildings and monuments, private palaces such as the Pamphili Palace, still occupied by the family but mostly a museum. There are Egyptian columns and Roman era ones such as Trajan's which tells the story of the conquest of Dacia, modern day Romania. And there is ancient Rome. Every shovel full brings up a history lesson, it seems. This is why Metro Line C is not yet done after so many years, delaying one of the remedies for the chaos. There is plenty of cultural modernity to bring you in and keep you here. Wanted in Rome publishes huge lists of things to do- concerts, expositions, talks, walks, plays and of course opera. The Italians invented this high soap. Good grief, are they melodramatic or what? http://www.wantedinrome.com/whatson/.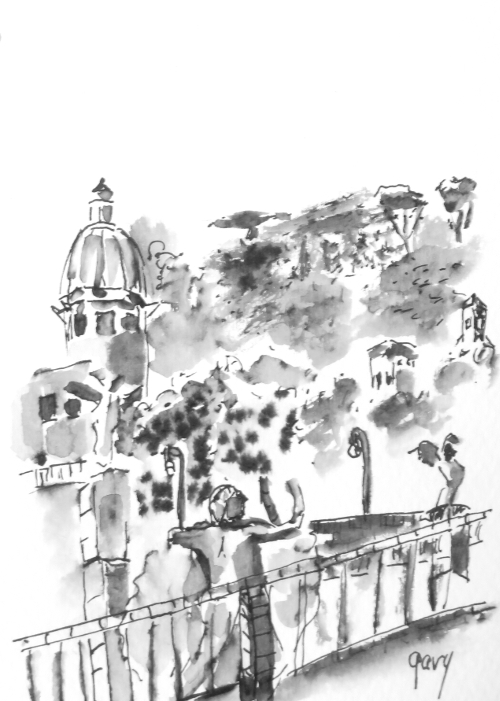 Summer brings the Music Fest, starting June 21. Nighttime is filled with outdoor concerts and plays and acrobats and who knows what else, all free, and all the ones I have seen have been very good. My favorite venue is atop Castel San Angelo. Order a glass of wine and enjoy the music and the view of St Peter's!! And of course any time of day or night have a cappuccino. Maybe you'll find a delightful something to draw.
Then there's the odd public service we ran across. At Ottaviano metro, where you exit the subway for the Vatican, there is a free water spot. Rome has had public drinking fountains, these little green creatures called 'nasoni, for eons.' They run constantly. But this fountain is different, like the old milk dispensing machines, standing some 2 meters/7′ tall. You put your bottle under the spout, press the button showing the size bottle you have and presto! You can get fizzy water as well, yet it is totally free! What?
Only in Rome would you get free carbonated water. How do they manage this and yet not be able to adequately handle the trash and sweep the streets? Or perhaps more importantly, why bother with this at all? Perhaps it has something to do with the trash. Millions of plastic bottles filled with water fill landfills and float in the Tevere that winds through the city. Can we help if we give away the sparkling water? I'd say so.
The government is trying. You can see that with this strange giveaway, with the trash platforms, another metro line. But you see the challenges everywhere you go, the trash strewn streets, the refugees, the homeless, the African street vendors.
June 2016