July 29-30, 2019
Hoorn (circa 1200) is another of Holland's charming historical villages. It is on the Ijsselmeer south of Medemblik. On our boat it took about four hours. The sea was calm, fortunately, and the strong breeze kept us quite comfortable in another warm day of around 27c (80f). There were many people out sailing, mostly closer to shore that we were. In the photo below you see the ferry that goes between Medemblik and Enkhuizen.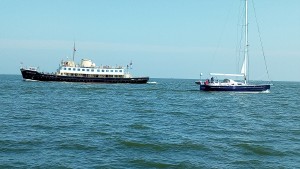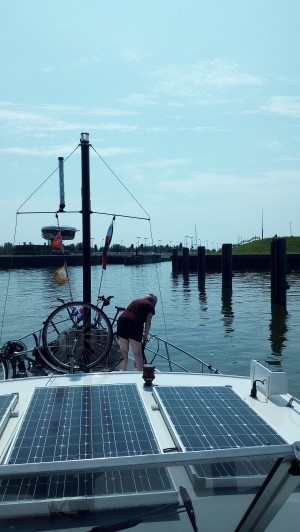 The harbor in Hoorn is quite impressive, starting with the
Hoofdtoren, a fortification dating from 1522,

one of the last remaining. From here ships traveled around the world for the Dutch East- Indies Company VOC. There is a bronze sculpture of the characters of a popular 1924 novel about a 17th voyage to the East Indies.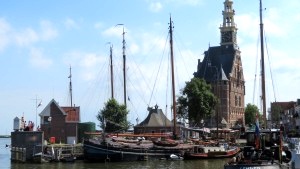 We came to rest in the Binnenhaven, which we'd rejected at first as being fully occupied. However after calling the havenmeister (harbor master) we found that here you are expected to allow others to moor to your boat. He was there to meet us on his dinghy -I was expecting him to be in or near his office – which is equipped to help moor when necessary, and stayed with us as we docked just in case, as it was a close fit. We were moored with a youngish couple with two boys around 8 years old, very friendly and on the way to Lelystad in a few days, as were we, as well as a bird sanctuary just off the coast of that town. They have a 12 meter boat but only about 2 meters wide and close to the waterline, so they chose to move so they would be able to see out more readily.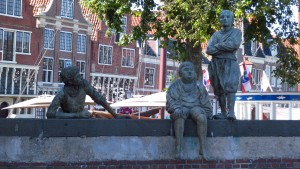 Hoorn's name may have come from Hornus, the stepson of King Radboud. However there are two other possibilities, one a sign depicting a post horn in an early 14th-century hanging in Roode Steen Square. A third claim is that the name comes the shape of an early port. Another is that the Hoorn derived from Damphoorn, a medieval name for a abundant local weed made into whistles. (see https://wikitravel.org/en/Hoorn).
There are several museums. We visited the Fries Museum, in the former (1632), the meeting place of the council of Westfriesland. There are a half dozen or so excellent group portraits in one of the rooms, and a significant number of portraits with out of proportion heads.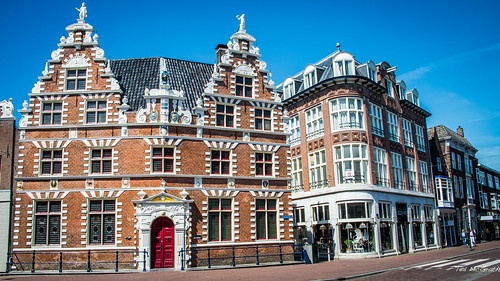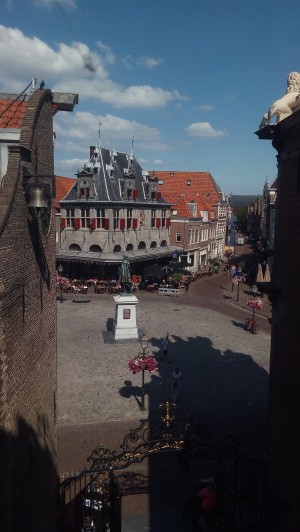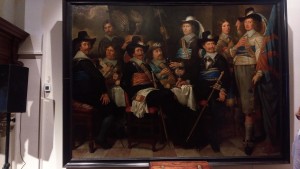 Between Hoorn and Medemblik you can travel by steam locomotive.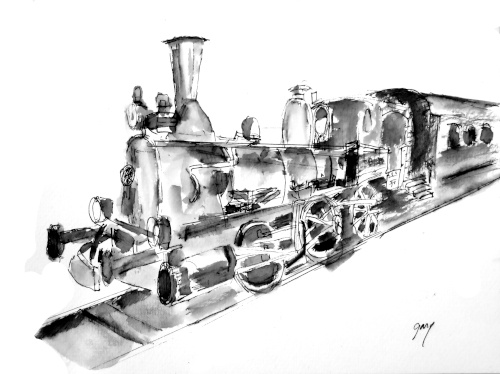 The volunteers have painstakingly restored the engine and cars. We enjoyed the company of a tall blond (there are many here) and her two girls, here depicted with the volunteer attendant in very well made traditional costume.

Next: dropping six meters from the Ijsselmeer into Flavoland.