July 11, 2019
Gouda (pronounced as in 'howda') is 45 minute bus and train trip from our mooring on the Oude Rijn (Old Rhine, part of the Rhine river system) in Alfan aan Den Rihn. Aside from being the home of the well known cheese, much more varied and flavorful than the bland version sold in the U.S., it has a superb city hall, Stadhuis, dating from the 14th century, the oldest such in the country.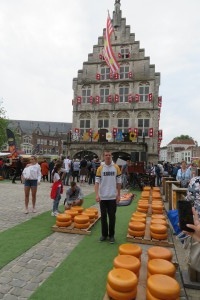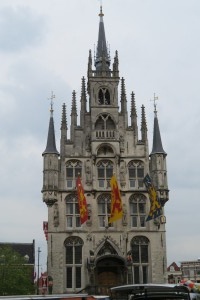 Today is a market day, with loads of activity. A woman's chorus sang in front of the Stadhuis, a couple played a calliope while passing the hat. It was excellent. We made a contribution.
Aside from the rounds of Gouda cheese, much of the merchandise is the same from market to market. We did see a wooden shoe maker selling his wares in Delft. It is not an item the Dutch use much these days, although they do wear leather clogs, so the wooden version are marketed mostly to tourists.
The cheese is sold in several varieties. Jong Gouda is young, that is, aged just four weeks. There are various states of aging up to over 12 months. They become increasingly hard and sharp. They are all encased in a plastic coating to keep them from drying out. Most are industrially produced, however there are several hundred producers using traditional methods using unpasteurized cow milk, called Boerenkaas. Boerenkaas, Noord-Hollandse Gouda, and Gouda Holland have Protected Geographical Indication status in the EU.