May 25, 2020
The measures taken in Netherlands are comparatively mild compared to Spain and places with severe outbreaks such as NYC. Restaurants are still closed except for take out, and we have seen few of those so far. Most stores are now open with long looking lines in front of a few as they limit the number of shoppers. The people are keeping a distance as they wait so its hard to judge the lines without actually counting and finding out how long the waits are.
We have not had to wait to enter any supermarkets. The Albert Heijn requires everyone to have a large cart and limits the numbers of those. This makes it easier to keep apart but you can still pass in the aisles as they have not made the aisles one way affairs. Others allow you in with a hand basket or none at all.
The buses, trains and airports (there are just two) require masks. There is no other requirement for masks nor for gloves. Newly arrived visitors are told to self-quarantine. There is no monitoring nor provisions made for supplying visitors and most hotels are closed if for no other reason a lack of business. Kukenhof, with hundreds of acres devoted to tulips attracts tens of thousands of visitors who pay a hefty price to see the fields and eat poffertjes, small puffs of pancake served with powdered sugar, a national treat. The flowers bloom in April so there were no visitors.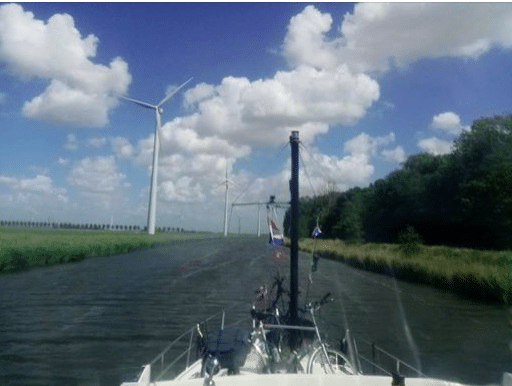 Boating is allowed but with only household members on board, the same being true for cars. Sailing schools have just been allowed to reopen. The youngsters are trained in groups to sail using very small craft. Other sports activities are resuming with restrictions. We have seen no groups of bicyclists in a country whose many bike paths are especially filled on weekends. Public sanitary facilities are closed, including laundry so we are required to use our tiny machine that has no wringing capability and hope for sun to dry things.
The virus hit the southern part of the country hardest, apparently spreading during March festivals. As elsewhere nursing homes were hit hardest.
Germany has experienced a bit of a bump since reopening measures began so we do not know if they will reopen the borders on June 1. we shall saunter that way in case they do.