March 2, 2019
Barcelona is more than just Gaudi, but we concentrated on his architectural gems. Judging by the crowds we were not alone in our choice. We visited the Basilica Sagrada Familia (Holy Family) and Casa Miló during our short visit.
For those not familiar with Antoni Gaudi, (1852–1926) was a Spanish whose style belongs to the school of architecture called Catalan Modernism. His main work is the Sagrada Familia, started before his involvement and ongoing today. We first visited in 1992, and since then they have installed the roof and the fabulous stained glass windows that flood the space with a vast display of soothing, pastel brightness. In addition to the church he is also known for apartment buildings and Park Güell.
My water color sketch of the Basilica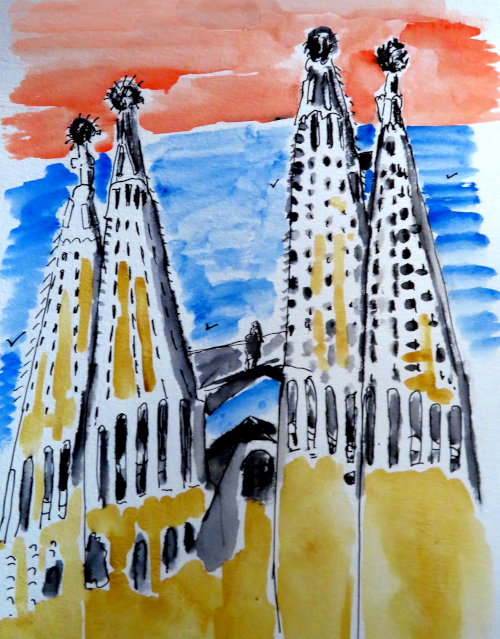 From outside the Sagrada Familia you are struck by the slender immensity of the spires. Each is topped by colorfully decorated crosses.The light from the large surface are of the windows passes through the subtle hues. No artificial lighting is needed.
Sagrada Familia
[envira-gallery id="8218″]
Construction started on this basilica in 1882 as a neo-Gothic structure, radically changed by Gaudo when he took over a year later. It did not pass the midpoint of construction until 2010. When we first visited in 1992 there was no roof and no stained glass, which was installed starting in 2010. When Gaudi died it was just 25% complete. The Spanish Civil War and destruction of Gaudi's plans delayed things until the 1950's. Since 1940 the architects have been Francesc Quintana, Isidre Puig Boada, Lluís Bonet i Gari and Francesc Cardoner. They will add 6 immense steeples by 2026.
The style is akin to Spanish Late Gothic, Catalan Modernism, Art Nouveau or Catalan Noucentisme. The exterior features a much agitated surface and sublime sculptures. The main sculptor was Josep Maria Subirachs, who died in 1914 at age 87. His work was original, not adapted from any of Gauidi's work. He began work In 1986.
"While the Sagrada Família falls within the Art Nouveau period, Nikolaus Pevsner points out that, along with Charles Rennie Mackintosh in Glasgow, Gaudí carried the Art Nouveau style far beyond its usual application as a surface decoration." For further reading see https://en.wikipedia.org/wiki/Sagrada_Fam%C3%ADlia